A TRUSTED & REPUTABLE NAME IN AUTO REPAIR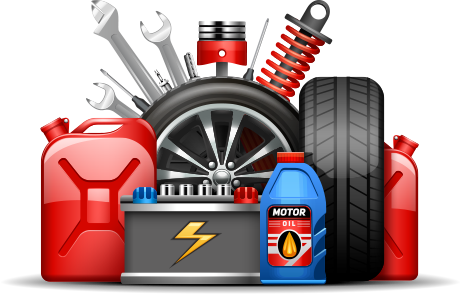 Services
Scheduled Vehicle Maintenance
Scheduled maintenance is important not only to help avoid costly repairs, but may also be required to retain manufacturer's warranties. Crossroads Auto Repair Services can help you with both by performing the recommended service for your vehicle such as tune-ups, oil changes, fluid checks or flushes, and more.
Contact us today to schedule an appointment.
Oil Changes
Changing the oil in your vehicle is one of the easiest and yet most essential steps to keeping your engine running properly. We offer a variety of quality motor oils including synthetic blends designed to maximize performance or for higher mileage engines. Let Crossroads Auto Repair Services keep your engine running smoothly and efficiently.
Tune-Up Services
We offer tune-ups on all makes and models of vehicles. Whether your vehicle has a carburetor or is fuel injected, Crossroads Auto Repair Services can help keep your vehicle running efficiently and smoothly.
Ask us for more information on the proper tune-up for your year, make, and model.
Engine Service and Repair
The environment inside your engine is harsh and several parts inside the engine may need to be replaced from time to time. The check engine light, wet spots underneath your vehicle, or noises while starting or operating your car, are all reasons you should bring your vehicle in to Crossroads Auto Repair Services for diagnostics or service.
Computer Diagnostics
If you're able to read them, the computer systems available in today's vehicles contain a variety of information. At Crossroads Auto Repair Services, we use modern computer diagnostics to help diagnose and pinpoint issues you may be experiencing. Let our team of automotive technicians help save you time and money with our modern diagnostics tools.
Inspections & Emissions
Our technicians can inspect your vehicle for required state safety and emissions requirements. We can help find and repair any issues to make sure your vehicle meets state requirements and your vehicle is safe for you and your family.
Exhaust System Repair
Noisy or smelly exhaust? At Crossroads Auto Repair Services, we have the tools and experience to repair your exhaust system and reduce your vehicle's emissions. If you need service or repairs on your exhaust system, stop in today for more information or to set up your service appointment.
AC Service and Repairs
No sweat. Crossroads Auto Repair Services can handle your air conditioning repairs and maintenance so you're cool and comfortable while on the road. Whether you're AC doesn't get cold or just doesn't work, let us take a look at your AC.
Transmission Maintenance and Repair
Don't let your car jerk you around anymore. Your vehicle's transmission needs proper lubrication just like the motor. If your vehicle isn't shifting smoothly, makes noise, or suddenly drops into gear, bring it to Crossroads Auto Repair Services. We perform fluid flushes and other maintenance for transmissions and torque converters to keep you going safely and smoothly.
Suspension Systems
Not only does your suspension system provide a smooth, comfortable ride, it also saves you money. Your suspension helps to ensure proper alignment, even tire wear, and helps you stay in control of your vehicle. If you notice noises, vibrations, or excessive tire wear, Crossroads Auto Repair Services can help find and correct the problem.